Categories
Manufacturers
Bestsellers
Site Information
Product Details
( Sorry, Currently out of stock.) 212cc Box Stock Project Engine Kit with ARC Flywheel

SKU: 0208

List Price:

$500.00

Your Price:

$299.99

Your Savings:
$200.01
Quantity:
Race Ready Upgrade:
Race Ready Upgraded option (Add $45.00)
CL4 Cam:
CL4 (Add $39.99)
EV-6:
EV-6 (Add $48.00)
Overview
212cc BSP Engine Kit includes the following: BSP 212cc engine with JT Cylinder head, Max Stroke Crankshaft "2.163 - 2.173", block with T6 Treated stock piston . 10.8# valve springs, NEW BSP-4 Race Cam, T6 Treated Performance cast rod, Big Bertha aluminum chain guard, BSP black aluminum top plate, BSP aluminum filter adapter, BSP filter & cover sock, Walbro fuel pump, Fuel filter, (ARC Billet Aluminum Flywheel or optional Speedway Billet Flywheel), double reinforced blower housing tabs, valve cover with pulse fitting installed, fuel line and throttle kit consisting of cable, cover, and clevis pin. All gaskets to complete engine are included.
Temporarily out of the Race Ready Ruixing Carburetor that is Tuned and Jetted (Main .038 Low Speed .022.
(Note: does not include muffler/header system.)
(Race ready upgraded option includes: 212cc Box Stock Project Engine Kit with ARC Flywheel with the following items installed and/or set, 10.8# legal race valve springs, check installed height, set running lift, set valve lash, assemble race ready blueprinted carb and mount, mount flywheel and set coil gap, check rod bolts, cam timing, valve cover with pulse fitting, and filter adapter.) This motor is also our Sealed Engine option for groups or classes that want the option of a sealed motor for competition. You would need to select the race ready option to have everything in the motor race ready option set and the motor sealed for free. Include in the notes section you want the motor sealed or it will be sent to you unsealed. Used for competition racing purposes only.
For more info or if you have a specific engine application in mind that we do not have listed, give us a call and we can make it happen. 386-938-4211.
Tell a Friend
Cart Contents
Your cart is currently empty
Subtotal: $0.00
Sale Item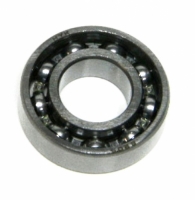 Bearing
$5.95