Categories
Manufacturers
Bestsellers
Site Information
Product Details
( Sorry, Currently out of stock.) 212cc Box Stock Project Engine

SKU: 0212

List Price:

$250.00

Your Price:

$129.99

Your Savings:
$120.01
Quantity:
ARC Flywheel:
ARC Billet Aluminum Flywheel (Add $75.00)
Black Out Engine:
Black Out Engine
CL4 Cam:
CL4 (Add $39.99)
EV-6:
EV-6 (Add $48.00)
Overview
(NEW) 212cc Box Stock Project Engine (Assembled in the USA!) with all high quality hand picked Box Stock Project parts to include the following; (NEW) JT head, hardened heat treated crankshaft guaranteed (2.163-2.173) tapered to fit all 196cc clone flywheels, T6 Treated cast 5 over rod, New BSP-4 camshaft, T6 Treated stock light weight piston (2.756 or 70mm) with light weight wrist pin, BSP block (2.756) and side cover, highest quality P5 bearings, high quality side cover gasket, Throttle Return Spring and Pull Rod.
Temporarily out of the Race Ready Ruixing Carburetor that is Tuned and Jetted (Main .038 Low Speed .022.
All your accesories that bolt to your 196cc BSP clone or other 6.5hp motors will interchange with this one.
Choose your color-Yellow or Black Blower housing, Crank rope, Large metal shroud, and Valve cover. (Does not include Flywheel, top plate, air filter adapter, chain guard, fuel pump, air filter.)
Options: ARC Speedway Billet Aluminum Flywheel (6689), ARC Billet Aluminum Flywheel (6619), EV6 camshaft or CL3 camshaft. Used for competition racing purposes only. Optional More info or if you have a specific engine application in mind that we do not have listed, give us a call and we can make it happen. 386-938-4211.
Tell a Friend
Cart Contents
Your cart is currently empty
Subtotal: $0.00
Sale Item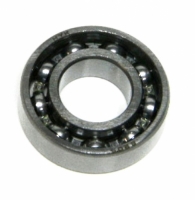 Bearing
$5.95